Avail IT Services
Premium Before & After Sales Computer Services
Providing Remote & Onsite Services in Portland Victoria
Contact Dean at deanbrinckley@gmail.com
SMS or Call Dean on 0406 598 342
Maintenance Plans
Affordable Maintenance Plans
Increased System Security & Speed
Remote & Onsite Services Available
Coming Soon
General Maintenance
Affordable Maintenance When Needed
Virus, Malware, Spyware & Adware Removal.
System Security Software Install & Updates.
Windows & Installed Software Updates.
Start-up Tuning & Hard-drive Defragmentation.
Remote Service: Internet & Free Software Required.
Secure One-Off Payment with PayPal
Prompt Callback on Payment Receipt
No Mates Rates Discount
Coming Soon
Monthly Maintenance
Scheduled Piece of Mind Servicing
Virus, Malware, Spyware & Adware Removal.
System Security Software Install & Updates.
Windows & Installed Software Updates.
Start-up Tuning & Hard-drive Defragmentation.
Remote Service: Internet & Free Software Required.
Auto Renewal with PayPal, Cancel Any-time
20% Off Additional PCs and Services
Priority Callback Assistance all Month
Coming Soon
Fix
Remove Viruses, Malware, Spyware and Adware.
Restore Data & System Stability.
Hardware Replacements & Upgrades.
Coming Soon
Protect
Install & Run System Security Software.
Install Spy/Adware & Popup Blockers.
Manage Data & System Backup.
Coming Soon
Maintain
Keep Windows & Installed Software Updated.
Defragment Hard Drives for Better Performance.
Tune Startup & Background Processes.
Coming Soon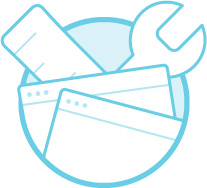 We will Be back Soon
Site upgrade in progress
Undergoing Maintenance
Its spring cleaning time!
Feature Updates
New blog, tips, help and maybe a forum.
Bug Fixes
A can of bug-spray never goes astray